Welcome to the Shenandoah Valley Food & Beverage Familiarization Tour
September 19-21, 2018
Welcome to the iconic Shenandoah Valley – a preferred business location on the East Coast nestled on the I-81 Corridor between Virginia's Blue Ridge and Allegheny Mountains. We are glad you are here to experience our region's food and beverage industry and to learn more about the opportunities and advantages for doing business in the Shenandoah Valley.
Interactive Tour Map
Click here or on the map below to follow the tour and learn more about our stops along the way!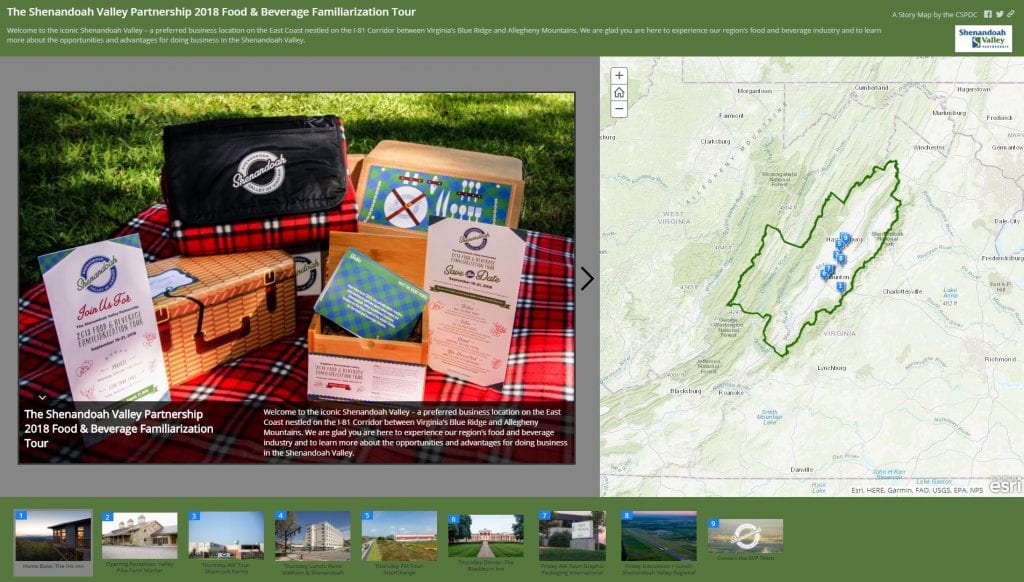 Tour Agenda

Wednesday, September 19
4:30 p.m.
Depart Iris Inn on group bus 1
5:00 – 7:00 p.m.
SVP Connect Event at Valley Pike Farm Market 2
7:00 – 8:30 p.m.
Private Local Farm-to-Table Dinner at Valley Pike Farm Market
8:30 p.m.
Depart Valley Pike Farm Market on group bus and return to Iris Inn
Thursday, September 20
8:00 – 8:30 a.m
Breakfast at Iris Inn – Guests may eat now or anytime during regular breakfast hours of 8:00 – 9:30 a.m.
8:30 – 9:45 a.m.
Executive Roundtable – Regional Success Stories
10:00 a.m.
Depart with concierge for food & beverage manufacturing operation tour
10:20 – 11:30 a.m.
Tour of Shamrock Farms + County-Owned Commerce Park Overview 3
11:30 a.m.
Depart for Lunch
12:00 – 1:30 p.m.
Lunch at Hotel Madison & Shenandoah Valley Conference Center and discussion on higher education impact on regional workforce efforts 4
1:30 – 2:30 p.m.
Optional Experience: Downtown Walking Tour + Shopping Opportunity 

or

James Madison University Guided Tour
2:30 p.m.
Depart Hotel Madison & Shenandoah Valley Conference Center for packaging & logistics supply chair experience
3:00- 4:00 p.m.
InterChange Site Tour + Project Overview 5
4:00 p.m.
Depart InterChange
4:20 – 5:00 p.m.
Relax & unwind at rooftop reception at The Blackburn Inn 6
5:00 – 7:00 p.m.
Locavore inspired dinner at The Blackburn Inn
7:15 p.m.
Arrive at Iris Inn
Friday, September 21
8:00 – 8:30 a.m.
Breakfast at Iris Inn – Guests may eat now or anytime during regular breakfast hours of 8:00 – 9:30 a.m.
8:30 – 9:30 a.m.
Executive Roundtable – Regional Workforce Solutions
9:30 a.m.
Depart with concierge for packaging facility tour
9:45 – 10:30 a.m.
Tour of Graphic Packaging International 

7

10:50 – 11:15 a.m.
Market Access + Support Infrastructure Overview for Food & Beverage Industry 8
11:15 a.m. – 12:00 p.m.
Picnic-Style Lunch
12:00 – 1:00 p.m.
Regional Marketing Strategy Discussion facilitated by Chabin Concepts
1:00 p.m.
Food & Beverage Familiarization Tour Concludes – Depart for Home or Next Destination