Shenandoah Valley CoWorking & Remote Work Spaces
One of the things we have learned from COVID-19 is how capable employees in specific occupations are of working away from the office. While working from home has its perks, it's not uncommon to want a more defined work space – not necessarily a traditional office setup, but a space designed for productivity that lets you engage in your preferred amount of collaboration.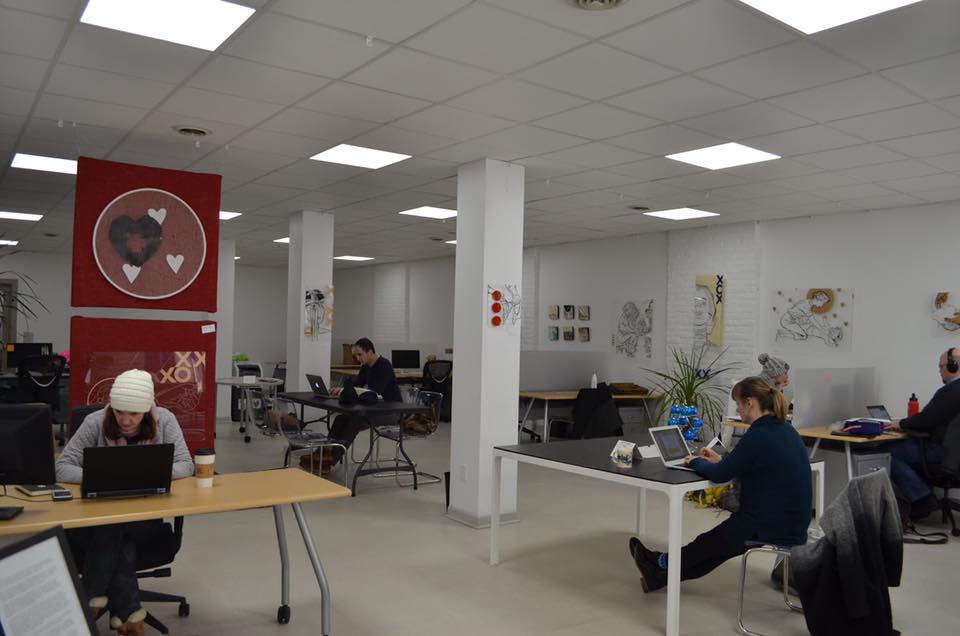 Inspiring Work Spaces
The Shenandoah Valley is home to several coworking and remote work spaces, like Staunton Innovation Hub pictured left, that add to the flavor of urban living. These spaces exist alongside rural culture, local food and flavor, and outdoor recreational assets ideal for establishing your roots as a young professional or young family.
Explore Our City Centers
Opportunity
Location
Why this Space
A Desk 4 Me

136 General Drive, Luray, VA 22835

A Desk 4 Me offers co-work offices services. Users may just need a place to work while they're on vacation, a place for a meeting, or a desk or two for their growing business. They offer the following services: Dedicated Desk, Virtual Office, Shared Office, Hot Desking, Collaborate Space, Day Pass, Conference Room, Notary Services, and Lockers.
Broadway CoWorking

202 N. Main Street, Broadway, VA 22815

Broadway Coworking is for anyone who needs a quiet professional workspace. Entrepreneurs, freelance and mobile workers, inventors, designers and small businesses of various types.
Harrisonburg Innovation Hub

128 W Market St, Harrisonburg, VA 22801

Opening

late 2023 in the historic Wetsel Seed Building

, the mission of Harrisonburg Innovation Hub is to reduce barriers to innovation and create a Class A space for members. 
Start Here!


113 W. Nelson Street, Lexington, VA 24450

The mission of Start Here! is to help businesses incubate and grow, specially tailored for pop-up retail and co-work. The co-work space offers all of the benefits of a well-equipped office, in a creative and collaborative setting, with flexible rates tailored to meet individual needs.
Staunton Innovation Hub


32 N. Augusta Street, Staunton, VA 24401

Staunton Innovation Hub is a coworking space in the heart of Staunton VA's Historic District designed to reduce barriers to innovation and help small businesses succeed. They offer coworking spaces, a conference room, and private offices that are furnished and affordable. Event space also available.
Strasburg Co-Working

411 E. King Street, Suite A, Strasburg, VA 22657

Strasburg Co-Working is a community based work space that supports and encourages you to get that latest project done.
The Highland Center


61 Highland Center Drive, Monterey, VA 24465

The Highland Center accelerates the successful development of small businesses and non-profits through support services, resources, affordable space and networking opportunities. Click here for a 60-second virtual tour of the Center. 
The Perch at Magpie

85 W. Gay Street, Harrisonburg, VA 22802

The Perch at Magpie is an inspiring work space for professionals, entrepreneurs and innovators in Downtown Harrisonburg that encourages an organic style of collaboration and ideation, and elevates small businesses, office-independent workers, and awesome non-profit organizations.