SHENANDOAH VALLEY LIFE PODCAST
On the Shenandoah Valley Life podcast, listeners hear from Shenandoah Valley residents who are living, working and thriving in Virginia's iconic valley. Ready to make the Shenandoah Valley your home? Visit shenandoahvalleyliving.com to start your Shenandoah Valley Life.
Listen now >> iTunes, Spotify, RadioPublic, Pocket Casts, Google Podcasts, Breaker. The Shenandoah Valley Life podcast is produced in partnership with the Staunton Innovation Hub, a coworking space designed to reduce barriers to innovation and help small businesses succeed.
Episode 2 – Part of the Solution: A Conversation with Valley Guard Supply
Launched at the onset of the pandemic as a philanthropic effort to procure personal protective equipment (PPE) for the National Guard and other First Responders, Valley Guard Supply is owned and brought to market by military and medical service veterans. SVP Executive Director Jay Langston spoke with Nicky Swayne, General Manager, and Chris Ashley, Director of Operations, about how the region's business-friendly environment, talented labor pool, and innovative partnerships developed a valuable ecosystem to quickly launch and establish this essential business. Click here to listen.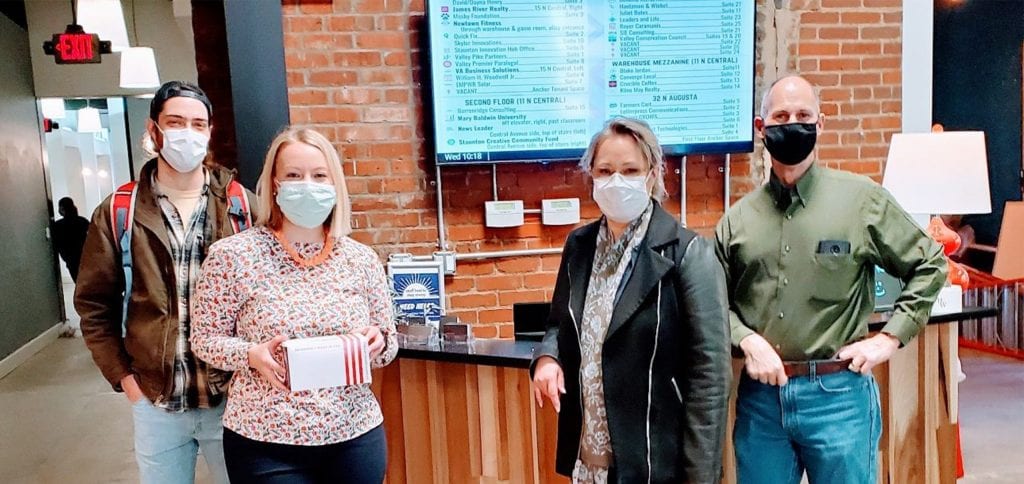 Episode 1 – Entrepreneurial Ecosystem Reducing Barriers: A Conversation with Peter Denbigh
Peter Denbigh is an entrepreneur in several start-up companies and one of the catalyzing energies behind the Staunton Innovation Hub. A James Madison University graduate, one of his most successful ventures is the best-selling party game "Watch Ya' Mouth". SVP Executive Director Jay Langston spoke with Peter about how the region's entrepreneurial ecosystem supported his many business ventures, what he's doing to break down barriers for other entrepreneurs, and why he loves calling the Shenandoah Valley home. Click here to listen.