February 11, 2021 
Many of the Shenandoah Valley's best kept secrets are name brands being produced in state-of-the-art manufacturing facilities throughout our region. As part of our lead generation activity in 2021, SVP will coordinate cooking classes to tell our story of deep food and beverage manufacturing expertise to site selectors through good food and fellowship – virtually.
Participating site selectors, while not cooking alongside the chef, will hear from local food and beverage industry partners on their business success stories and how their projects – both big and small, new and expanding – were made possible by regional ingredients for their success.
In February of 2021, we streamed live from The Yellow Barn at Shenandoah Caverns, one of our premier tourism venues. Site selectors followed along sous-chef Jay Langston as he prepared his Cappuccino Peanut Butter Blossoms. Throughout the segment, special guests told how our economic development assets, including the Hershey Boot Camp, develop the infrastructure and workforce for some of the sweetest jobs in the Shenandoah Valley. Special guests included Dr. Sharon Johnson, CEO, Shenandoah Valley Workforce Development Board; and Kristen Wilson, Hershey Boot Camp Veteran and current Hershey employee. 
Click here to watch the Virtual Cooking Class on YouTube.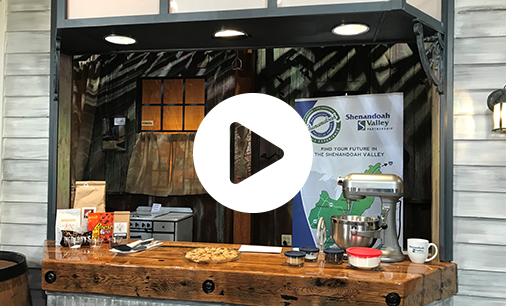 Eight site selectors participated in our first cooking show – the highest participation rate of any SVP virtual outreach initiative. Feedback included:
"Jay, I love that you're teaching us today!"
"Much more fun than sitting and looking at the screen. And I have cookies."
"Three cheers!"
"Thanks for inviting me! This was fun."
"Great way to learn about the Valley and lots of fun!"
"This was something different and FUN. Thanks Sharon and Kristen and Chef!"
"Thank you so much!! This was so much fun!!!"
SVP's goal is to increase site selector participation throughout the year as we continue to share how the Shenandoah Valley's food and beverage businesses maximize farm-to-table culture for field-to-market success.
---
The cooking class initiative is a continuation of our marketing and communications strategy to promote our food and beverage industry. Registered site selectors received a custom Shenandoah Valley candy box. The "chocolate candy box" was filled with local ingredients, cookie recipe, and information on the Hershey Boot Camp.