May 27, 2021
A mosaic of productive family farms, vibrant cities, and accessible outdoor recreation form the essential character of the Shenandoah Valley. Home to four of the top five agricultural-producing counties in Virginia, local is defined by a country drive, not a 100+ mile commute. Our majestic fields and downtown hubs weave together farm-to-table eateries and fresh food roadside stands.
The Shenandoah Valley offers one of life's greatest gifts: room to explore. Nestled between the Blue Ridge and Allegheny Mountains, we breathe in fresh air and relax into a region that's hailed by multi-generational residents and young newcomers as the ideal place to call home. The trailhead to our favorite waterfall hike or the beginning of our evening ride may be as close as our doorstep, and always less than an hour away from a downtown conference room. This is the Shenandoah Valley life.
We embrace a local flavor that is one part cosmopolitan and one part love for the fields and ridges we call home. Companies looking to grow will find a fresh perspective in Virginia's Shenandoah Valley that creates a recipe for business success.
In May of 2021, we streamed live from Massanutten Resort, one of our four-season recreational attractions and top employers in the region. Participants grilled chicken tacos alongside Farmer Focus' very own Jefferson Heatwole.
Click here to watch the Virtual Cooking Class on YouTube.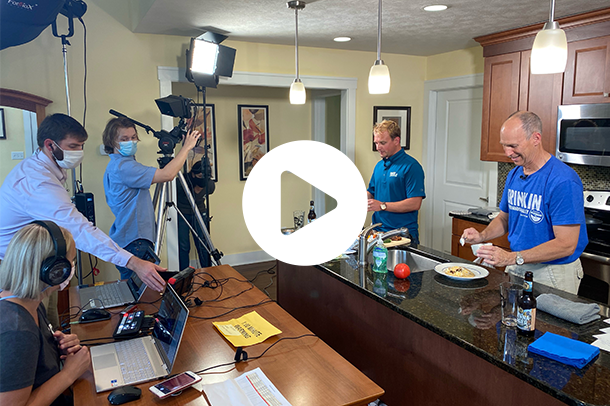 Seven site selectors participated in our second cooking show. Feedback included:
"I think these are phenomenal. Thanks for doing these and helping us learn about the region. It's just so much more memorable and now I have recipes forever."
"These cooking shows are SO MUCH FUN."
"This is the first time joining these shows. Such fun!"
"Thanks so much for another fun/educational session! Looking forward to the next cooking session."
"Tastes incredible."
The cooking class initiative is the second in our 2021 series to promote our food and beverage industry. Registered site selectors received a custom Shenandoah Valley ingredient box.