June 8, 2022 – Virginia's Shenandoah Valley Life is steeped in a heritage of agriculture and two companies owned by sisters are taking agriculture in a new direction.  Jessica Hall and Stephanie Auville are adding floriculture to the list of agricultural products exported from the Shenandoah Valley.  Their companies, Harmony Harvest and Floral Genius, grow the flowers on their 20-acre farm and ship direct to consumers.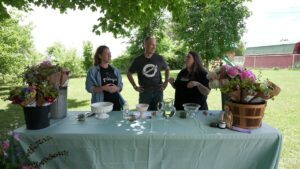 Their companies, 10 years old, have made phenomenal progress, growing 1600% during the pandemic (2020-2022).  Talking with Stephanie and Jessica, and their mom Christine, they attribute their growth to the COVID pandemic because it made them change their business model – the launch of the Happy Box!
When they began their businesses, they were selling wholesale, with Whole Foods being a major customer.  COVID came and orders dried up immediately.  The made the decision to sell direct and sought out assistance from the Shenandoah Valley Small Business Development Center who helped with a business plan and direction to take their next steps.  Mixed into this story is their purchase of very old equipment used to make Flower Frogs – the Floral Genius business that is aligned at the hip with Harmony Harvest.  This sustainable product replaces the floral foam normally used in flower arrangements with a cast product that can be used for a lifetime.
While still growing their businesses, they have taken advantage of resources designed to assist entrepreneurs in the Shenandoah Valley and were cohorts in the Startup Shenandoah Valley (S2V) program in late 2021, which takes companies to the next level.  This program incorporates mentorship, coaching and an alumni network.
Enjoy this "cooking" show in which Jessica and Stephanie take control of the show and help the host make his first flower arrangement.  Their passion and energy are perfect analogies for the spirit of the people in the Shenandoah Valley.
(58 min. watch)