May 24, 2022
The Shenandoah Valley Partnership (SVP) hosted an economic forum May 20, 2022 providing an overview of recent activities in the Shenandoah Valley region, a presentation by the Port of Virginia and an in-depth look at housing in the region.  The mainstay of the program focused on housing.
SVP was joined by guest speakers, Karl Waizecker, General Manager and Principal Broker of Kline May Realty who provided an analysis of the regional housing market.  Olivia Raines, the Housing Program Coordinator for the Central Shenandoah Planning District Commission spoke about the housing study she is administering and the plan for 60 new residential units as part of the $2 million grant received.  Rhonda Cooper, the Director of Community Development with Rockingham County spoke about the challenges at the local level that accrue at the local level via environmental regulations, building code requirements and infrastructure that affect both housing densities and affordability. Speakers Chris McNamara from Virginia Housing, and Jay Grant and Chase Sawyer from the Virginia Department of Housing and Community Development spoke about some the programs for financing, down payment assistance and other programs that help with housing affordability. David Wenger with the Central Valley Habitat for Humanity wrapped up the guest presentation with a discussion on the positive impact of house ownership on the community and the Habitat for Humanity programs.  The meeting then opened for discussion from the floor.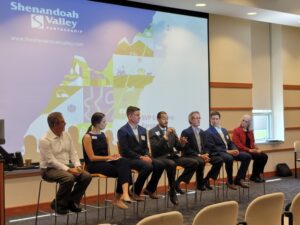 Important points made about our market were that we are likely several years away from building our way out of housing scarcity and that the average housing price is not likely to decline in the near term.  Fortunately as a rural region that is growing, we are attracting national builder attention and coupled with some innovative programs from the Commonwealth, we will experience increasing growth in the housing market.