For original article, click here.
Date: April 2, 2019
To make a bachelor's degree more accessible to local students, Bridgewater College and Blue Ridge Community College signed a new Guaranteed Admission Agreement that will allow students meeting certain requirements to transfer directly from the community college to Bridgewater's bachelor's degree program and enter with junior status. Bridgewater President Dr. David Bushman and Blue Ridge Community College President Dr. John Downey signed the agreement on Tuesday, April 2, at Bridgewater College. The day also marked Bridgewater College's annual Founder's Day ceremony, which commemorates the birth of its founder, Daniel Christian Flory.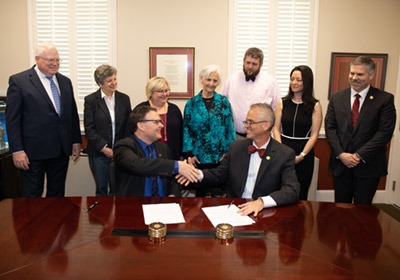 "Bridgewater College is excited at the prospect of additional Blue Ridge Community College students electing to continue their education at a liberal arts college close to home that offers a wide variety of opportunities," said Bridgewater College President Dr. David Bushman. "We look forward to our continued longstanding partnership with BRCC, and to welcoming its students to our campus as future Eagles."
Under the agreement, students graduating from Blue Ridge's Associate in Arts and Sciences degree program in the College Transfer program would be guaranteed junior status when they transfer to Bridgewater College. Among the conditions of the agreement, students will be required to maintain an overall grade point average of at least 2.5 while a student at BRCC and will sign a letter of intent to enroll at Bridgewater.
Courses taken at BRCC will transfer directly to Bridgewater, and transfer students will only be required to complete four additional credit hours of liberal arts-based coursework. The additional coursework serves as a gateway to the liberal arts curriculum at Bridgewater and provides students with a number of critical skills necessary for liberal arts-based education, said Dr. Leona A. Sevick, Bridgewater's provost and vice president for academic affairs.
"Blue Ridge Community College and Bridgewater College have enjoyed a long history of working together for the benefit of the community," said Dr. Downey. "This updated Guaranteed Admission Agreement means that BRCC students will truly benefit from a seamless transfer agreement and will now have a more accessible pathway through the excellent majors available at Bridgewater College."
Twenty-nine students transferred from BRCC to BC in 2017, up from 11 in 2011.